Electric Dog Fence Kit: Dogtra E Fence + Receiver Collar
Fence Dog Training Kit Includes:
Transmitter & power adapter
Receiver charger (dog collar charger)
One (1) DOGTRA Dog Collar (IPX-7 Rating Waterproof)
Probes designed to work for all fur types: short to long
Instruction materials included
150-metre wire
25 flags for your pig dog training
Dogtra Accessories included: test light for dog collar, wire-joiners (4), probes for fur types, adjuster, the ground-wire & the caps for non-stimulation mode.
---
How the Dogtra Invisible Dog Fence Works
The new Dogtra EF3500 has instantly catapulted itself up to be one of the very best rechargeable dog fencing systems currently on the market and a very useful addition to your pig dog training set-up.
It works for most dog breeds as long as your pup's at least 7kg in weight. Recharge the Dogtra Collar 100% and then submerge into water to test its IPX-7 Waterproof rating. Its charger has a Fast Charge 2-Hour Charging time. Its solid transmitter emits its radio signals out 1600 squared metres which is around 40 acres (0.3953686 to be exact) of strong coverage. Plus, you can purchase additional wire.
Need it for more than 1 dog? Purchase additional Dogtra EF3500 Receiver E Collars separately. You can pair the Dogtra E Fence with up to 4 dogs.
Charge it anywhere. Its transmitter plugs straight into any regular power outlet, emitting its radio signal which runs up the e fence containment system's wire.
Please note:
The radio transmitter itself is NOT water resistant and need to be under cover.
The Dogtra EF3500 Receiver is an easy-to-wear light weight e collar which receives the radio signal and immediately after, lets your dog know. It will alert your dog with the mode chosen. Vibration is optional for when within the field activation areas.
You can add from 40cm to 6 metres of lax spacing from the activated field line.
Once your dog goes past this point you've set from the field line, the electric fence will then communicate with the e collar which then will receive the stimulation for correction level described as a "static pulse".
---
Stimulation
2 Stimulation Modes: Comes with two transmitter-controlled stimulation modes.
Vibration Only (this makes it so that a
Stimulation + Vibration Mode: E collar gives dog warning with vibration when field line is crossed. If your dog refuses to come back or has not learned yet, then you can set a level from 1 -8 of stimulation that will then be delivered to the dog at this point.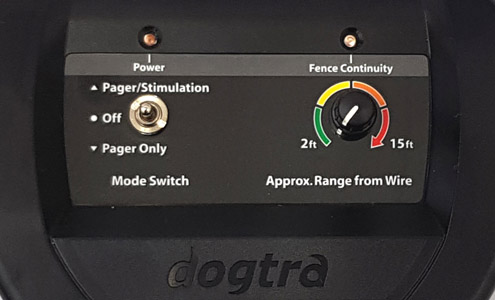 You can adjust this stimulation level manually. This image above shows you where this is done. It's a nice feature that allows you to easily adjust each dog's collar individually. 1 is the lowest level, with 8 being the highest level of stimulation.
Before going with the higher intensity levels of stimulation, the best way to start is at 1. Some dogs will react there. And then you can go from there. If needed you can slowly increase it until you see your dog starting to look around. This means he's definitely felt it.